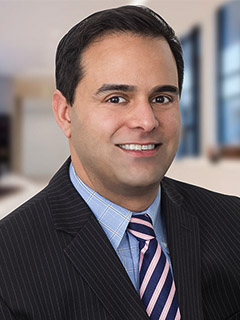 National charitable organization welcomes Chicago-area resident and senior investment professional to its Board of Investors
Chicago, IL ​​ – Gift of Adoption Fund, a non-profit organization providing financial assistance to complete both domestic and international adoptions​, is announcing the newest member of its Investor Board. Andrew P. Kerai, Sr., a Portfolio Manager and Senior Credit Strategist at RiverNorth Capital Management, is pledging his support to the organization.
"Investor board members fund the organization's growth initiatives and core operations," says Pam Devereux, Gift of Adoption CEO. "These gifts provide the foundation that makes our aggressive growth possible and allow us to meet the needs of more waiting children."
Gift of Adoption's Investor Board members pledge annual donations of at least $2,500 a year for three years. These gifts, coupled with donations by the organization's national board members, fund the non-profit's operating expenses which allows 100 percent of funds donated to chapters or other giving programs to go directly to funding adoption grants.
​Today, there are more than 150 million orphans in the world with 415,000 children in the U.S. alone living without permanent families[1]. Gift of Adoption puts adoption in reach for more parentless children by providing the final funding necessary for adoptive families to welcome a child home.
"I couldn't be more enthusiastic to be involved with the Gift of Adoption Fund," Kerai says. "As the father of two young children myself, I wanted to support an organization providing children in need with the ability to grow up with a loving supportive family, something I strongly believe every child in this world deserves."
Andrew and his wife, Denise, live in Glencoe, Illinois with their two sons, Andrew, Jr. and Christian. An alumnus of the Kogod School of Business at American University, Kerai graduated in 2009 with a Bachelor's in International Finance and Accounting.
Over the past 20 years, Gift of Adoption has awarded $8​.9 million in adoption assistance grants to unite more than 3,086 children with families across the U.S. The organization prioritizes grants for those adopting the most vulnerable children facing what is likely their last or only chance at adoption. This includes families who are working to unite or keep siblings together and those adopting children with critical medical conditions, kids aging out of orphanages or children at risk of falling into the U.S. foster care system.
About Gift of Adoption Fund
Gift of Adoption Fund is a national 501(c)3 charity that provides the final funds needed to complete the adoptions of vulnerable children. The organization awards grants of up to $15,000 to provide families – regardless of race, religion, age, marital status, or sexual orientation – the financial support needed to bring their children home. Visit https://www.giftofadoption.org to learn more about how to put adoption in reach for children in need of families.

---