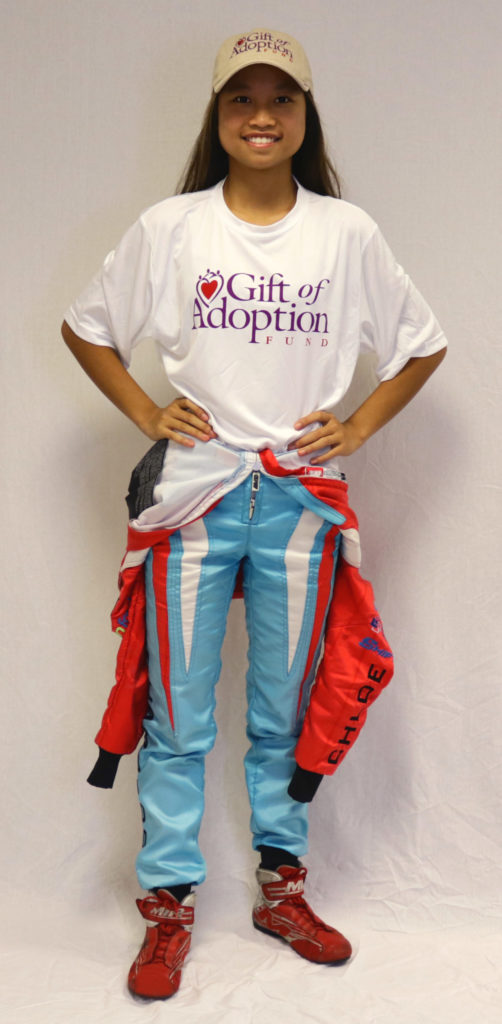 Chicago, IL – Chloe Chambers, an up-and-coming racing talent and Guinness World Record holder, is now an ambassador for Gift of Adoption Fund. Chloe, who is 16-years-old, will race in regional events and the prestigious United States F4 Series with the newly formed Future Star Racing team. She will use her platform to promote Gift of Adoption's mission of uniting vulnerable kids with permanent families, providing them with the chance to thrive.
Chloe started racing at the age of 8. Kart-racing became a family sport for Chloe, her parents and her two younger siblings. Over the course of her career, she has won multiple national races and regional championships across the United States and Canada. This year, Chloe will transition from racing karts to cars. She is coached by Al Unser Jr. And Sarah Fisher and has been awarded the Parella Motorsports Holdings Powering Diversity Scholarship.
"I am excited to race in the F4 Championship with Future Star Racing," Chloe says. "This is an amazing opportunity, made even better by the opportunity to promote Gift of Adoption Fund, a cause that closely aligns with something so dear to me and my family."
In the summer of 2020, Porsche approached Chloe and asked her to attempt to set a new Guinness World Record for fastest vehicle slalom. Driving a completely stock Porsche 718 Spyder, Chloe beat the existing world record by over half a second with a time of 47.45 seconds.
Chloe's inspiring story has been seen by millions of viewers globally. She has been featured on the Netflix series "My Next Guest Needs No Introduction with David Letterman," and videos of her setting the Guinness World Record went viral. Chloe also appeared on NBC's "Proving Grounds," and in countless automotive magazines and journals.
For more information on Gift of Adoption or to make a donation, visit https://www.giftofadoption.org.
For more information on Chloe Chambers, visit https://www.pegasusmarketing.com/chloe-chambers.
About Gift of Adoption Fund
Gift of Adoption is a national charity that provides grants of up to $15,000 to complete the adoptions of vulnerable children. Priority is placed on helping children facing what is possibly their only chance at adoption, including those at-risk of separation from siblings, entering foster care, aging-out of an orphanage, or with special needs.
Gift of Adoption is the largest provider of adoption assistance grants on a nondiscriminatory basis (without regard to age, race, ethnicity, religion, sexual orientation, or marital status) and our grants are paid directly to adoption agencies and attorneys working on the child's behalf. Since inception in 1996, Gift of Adoption has awarded $10.6 million in grants to give 3,639 children permanent families and the chance to thrive.
Gift of Adoption is recognized by Charity Navigator and the Better Business Bureau's Wise Giving Alliance. Visit www.giftofadoption.org to learn more.