Meet Nicole and Theo
Meet Amanda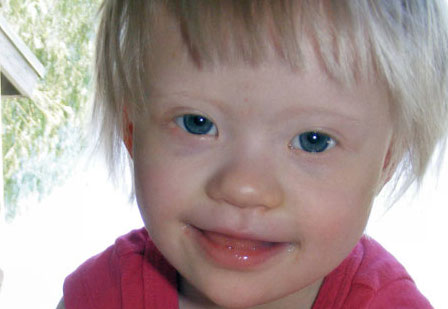 Amanda is a beautiful three-year-old Estonian orphan with Downs Syndrome. Unfortunately, many children in international orphanages who have Downs Syndrome are transferred to mental institutions at the age of four. The odds of them being adopted after that are extremely low. Knowing this, Thomas and Kris decided to act.
In 2007, Tom and Kris welcomed Kara into their family when they adopted her from the Ukraine. Kara and their youngest daughter, Meghan, also have Downs Syndrome. Knowing there are so many more children like Kara who are in need of the love and security of a family, Tom and Kris soon began a second adoption journey. Financing a second adoption so closely on the heels of the first proved to be difficult. Because time was of the essence, they turned to Gift of Adoption for assistance. A grant from Gift of Adoption provided the last bit of funding needed to give Amanda a forever family and allow her to be all she is meant to be.
Your donations will enable a child to experience the love and sense of belonging that comes only from being part of a family.
My goal is to raise $3,500 – enough to fund one adoption grant. Using the donation form below, you can make a one time donation or sign up for our Giving Club by making a recurring gift (just let us know how frequently and how long you'd like to give).
Mary Dunaway's Washington Chapter Giving Club
Let's Change Children's Lives Together!!!
As far as I'm concerned, nothing is more important than family. This is why I recently joined the Gift of Adoption Washington Chapter Board to raise funds to help vulnerable children become adopted into loving families.
By making a donation here, you are about to make a very real, direct and permanent impact on the life a child. 
Gift of Adoption supports children by providing grants to help get them out of foster care or an orphanage and into the loving arms of a strictly screened, qualified parent – their forever family. Anything you donate on this page will be used to help the children who need it most be adopted to a family right here in WA.
A few of the facts about this cause:
140 million children worldwide are orphans – that's equal to half of the US population. They are all under the age of 18.
500,000 children in the U.S. foster care system await adoption
10% of those children have been waiting to be adopted for over 3 years.
For every month in an orphanage, a child can lose as much as 3 months of normal developmental advancement.
THE GOOD NEWS:
Gift of Adoption is working to see that children are raised by families. And they pay special attention to assisting adoptions for the kids who need it most. Last year, about 15% of Gift of Adoption grants helped keep biological siblings together in one caring and loving home. 36% of Gift of Adoption grants went to children with critical medical conditions, giving them a chance to be adopted and receive the care they need.
Your donation is tax-deductible and 100% of your donation will be applied directly to adoption grants.
THANK YOU,
Mary