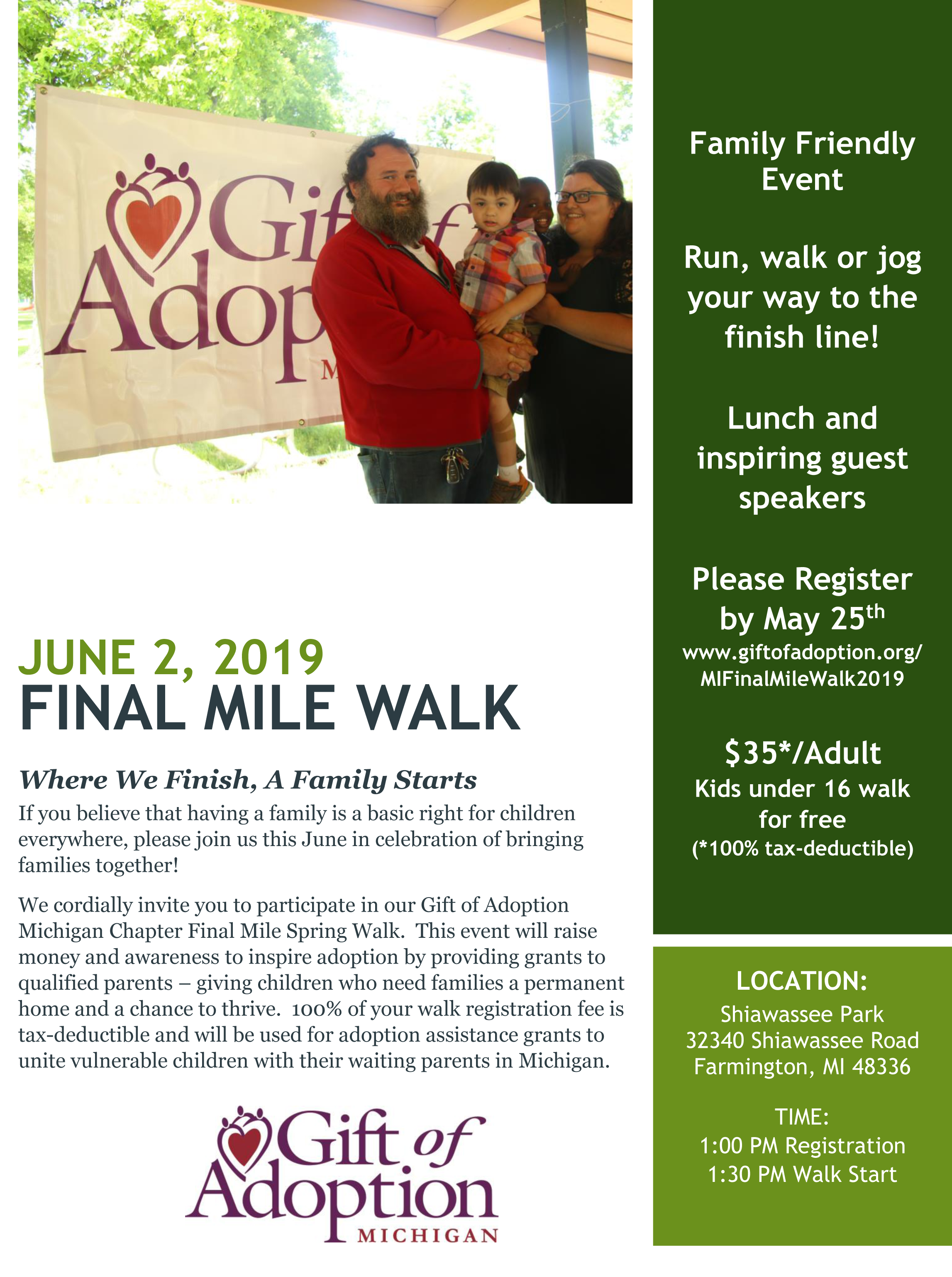 Sunday, June 2, 2019
Register as a walker, create a FUNdraising page, or both!
Walk Participants – Click below to register:
Note: If you register multiple adults, all adults who did not complete the registration form will need to sign and turn in the following Liability Waiver at the event check-in. Click below to download the waiver.
Participants – Download Waiver
FUNdraiser – Click below to create your personal FUNdraising page, create a FUNdraising team, or join an existing FUNdraising team:
Do you want to make a donation in support of a FUNdraiser? Click the button below and click on the "Fundraisers" tab to search for the person you want your donation to support.
Thank You to Our Generous Sponsors

Advanced Registration Information:
$35 per walker
$0 for children under 16
$100 for a team of 4 walkers
The Walk
Shiawassee Park
32340 Shiawassee Road
Farmington, MI 48336
Registration opens at 1:00 PM
Walk begins at 1:30 PM
Walkers of all abilities, ages 5 and above, are encouraged to participate!
FUNdraise
After you've registered, you will be directed to create your own personal fundraising page. You can easily share your page with family and friends through social media and email!
Pledge collection deadline is May 25, 2019. If you have collected checks or cash in support of your climb, you may submit your collected pledges by mail to:
Gift of Adoption
Attn: Michigan 2019 Final Mile Walk
2001 Waukegan Road
Techny, IL 60082
Checks should be made payable to Gift of Adoption.
Your pledges will be added to your scrolling total upon receipt. You may also bring collected pledges to the event on June 2nd. Please be sure to indicate that the donations are in support of your walk or submit with a completed donation form so that you receive proper credit.
Team information
To register as a team, choose a team captain who will register all team participants, click "Create a Team," use your creativity in selecting your team name and get started! Individuals may also join previously-formed teams when they register.
Why Walk?
We believe having a family is the basic right of children everywhere. Our goal is to make more adoptions possible and give as many children without families a life they otherwise may not have known.
Gift of Adoption is a volunteer-driven non-profit 501c3 charity organization that provides financial assistance to complete the adoptions of parentless children born in the S. and around the world.
We offer grants to provide families – regardless of race, religion, age or marital status – the financial support needed to bring their child home.
Since 1996, Gift of Adoption has awarded $7.4 million to help unite 2,543 children with a family of their own, including $238,000 in grants to fund the adoptions of 125 children adopted into families in Michigan.
We prioritize grants for the most vulnerable children facing what is possibly their last or only chance at adoption. This includes families who are working to unite or keep siblings together and those adopting children with critical medical conditions or kids aging out of orphanages.
Through Gift of Adoption, everyone can make an impact. You don't have to adopt to give a child a family. A donation to Gift of Adoption gives a child a permanent family and a chance to thrive. To learn more or get involved visit org.
Sponsorship Opportunities are available
Your sponsorship helps to defray the cost of organizing the event. Funds received from sponsorships are used to purchase T-shirts and complimentary drinks and snacks for each participant. Any additional money from sponsorships will help go toward our fundraising goals in support of adoption grants for Michigan families.
There are various levels of sponsorship for the Final Mile for Adoption Walk.
Platinum Level Sponsor‐‐$2000
Listed as top sponsor on web site with logo and link
Prominent display of logo on all walk collateral
Opportunity to speak at opening of race
Promotional materials in walk packet
Special PA announcements mentioning sponsor name during and after the race
Company name on finish line
4 complimentary walk entries
Gold Level Sponsor‐‐‐$1000
Listed as sponsor on web site with link
Company logo on back of walk collateral
Promotional materials in walk packet
Special PA announcements mentioning sponsor name during and after the race
3 complimentary walk entries
Silver Level Sponsor‐‐$500
Listed as sponsor on web site with link
Company logo on back of walk collateral
Promotional materials in walk packet
2 complimentary walk entries
Bronze Level Sponsor‐‐$250
Listed as sponsor on web site
Promotional materials in walk packet
1 complimentary walk entry
Finish Line Sponsor ‐‐ $250
Company name prominently displayed at finish line
Mile Marker Sponsor‐‐$150 each (or $400 for all four markers)
Company name will appear on 'Final Mile' marker signs, which will be prominently displayed at the 1 mile mark, the 3/4 mile mark, the 1/2 mile mark or the ¼ mile mark. Or for $400, company name or logo can appear on all four
For any questions or concerns, please contact:
Jim Berkemeier (jberkemeier@advocateadvisors.com / 517.525.9323) or Michele Oliveto (moliveto@lumeris.com /248.808.0068)