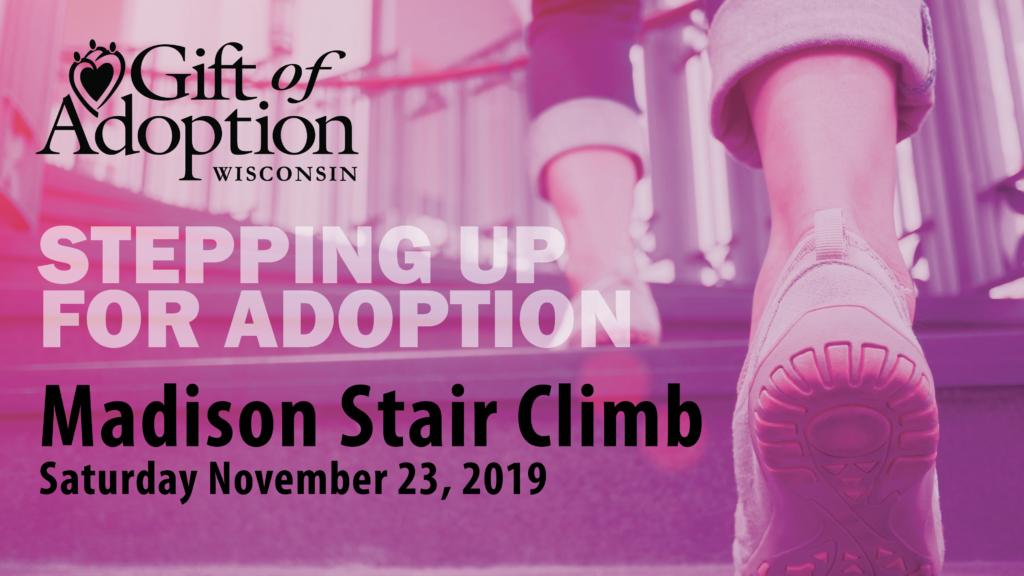 Gift of Adoption Wisconsin Chapter Madison Stair Climb 
Saturday, November 23 is National Adoption Awareness Day. STEP UP and raise money for adoption with us!
Meet in the Johnson Street lobby and climb the 13 floors as many times as possible (taking the elevator down) in 30 minutes.
Reception will follow on the 13th floor.
The funds raised during our event fund adoption assistance grants to qualified families in Wisconsin and across the Midwest.
Made possible by American Family Insurance Dreams Foundation
When: Saturday, November 23, 2019
Where: Ovation 309
309 W Johnson St.
Madison, WI 53703
Cost: $25 per participant
Schedule
Registration: 8:30 – 9:00 a.m.
Climb: 9:00 – 9:30 a.m.
Reception: 9:30 – 10:30 a.m.
Event includes light refreshments after the climb
Sponsorships Available!
Download Sponsorship Information (pdf)
Platinum Level Sponsor‐‐$2000 (only one available)
Listed as top sponsor on web site with logo and link
Opportunity to speak at opening of event
One child's adoption story to share – in sponsor's name
Special PA announcements mentioning sponsor name during and after the climb
Sponsor name on finish line
8 complimentary climb entries
Gold Level Sponsor‐‐$1000
Listed as sponsor on web site with link
Special PA announcements mentioning sponsor name during and after the climb
6 complimentary climb entries
Silver Level Sponsor‐‐$500
Listed as sponsor on web site with link
4 complimentary climb entries
Bronze Level Sponsor‐‐$250
Listed as sponsor on web site
2 complimentary climb entries
Floor Marker Sponsor‐‐$150 each
Sponsor name will appear on floor marker signs, which will be prominently displayed on each floor.
Why we climb: To help bring a child home.
Step 1: Register. All climbers must register using the link below. As part of the registration process, you will also have the opportunity to create your personal fundraising page. Ask your friends and family to sponsor your climb using your custom URL.
Step 2: Fundraise: Direct your supporters to your personal URL. If you are interested in sponsoring a climber and you do not have their personal URL, you can search for their fundraising page by following this link and clicking "Fundraisers" If you just want to support this event but not a specific climber – follow the link and click "Donate".
Event Sponsorships are also available!
Download Sponsorship Information (pdf)
Sponsor this Event