National non-profit welcomes Chicago-area resident and Corporate Responsibility Leader to help make adoption more accessible for in-need children across the country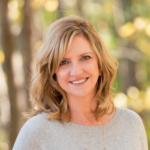 Chicago, IL ​​ – Gift of Adoption, a charitable organization providing financial assistance to complete both domestic and international adoptions​, announces the appointment of a new leader to its national board of directors. Arlington Heights, Illinois resident Andrea Armstrong is joining the Gift of Adoption's leadership team. She will play an integral role in helping Gift of Adoption unite more children with forever families.
"At Gift of Adoption, we support families that are adopting vulnerable children by providing them with the financial support necessary to complete the adoption process," says Pam Devereux, Gift of Adoption's CEO. "We're excited to welcome Andrea to our national board and we're looking forward to seeing the ways that her skills, insight, and leadership grow our mission."
​Today, there are more than 150 million orphans in the world with 415,000 children in the U.S. alone living without permanent families[1]. For many children, it's the high cost of adoption that stands in the way. Gift of Adoption puts adoption in reach for more parentless children by providing the final funding necessary for adoptive families to welcome a child home. In her role on the board of directors, Andrea will help Gift of Adoption expand its national reach ​and unite more children with a forever family.
Andrea is the Chief of Staff at Alight Solutions, where she also serves as head of Corporate Social Responsibility. An alumna of the University of Cincinnati, Andrea's expertise includes portfolio management, strategy, talent development, and organizational growth. Over the course of her robust career, Andrea's worked with several industry-leading corporations, including Aon, GE Capital and the Great American Insurance Co. Andrea lives in Arlington Heights, Illinois with her husband and two children.
"As an adopted child, I grew up knowing that I had been chosen," said Andrea Armstrong. "My parents offered me that simple gift and it is one that has shaped both my career and my life. I look forward to helping Gift of Adoption empower even more children and families with that same gift."
Over the past 20 years, Gift of Adoption has awarded $8​.8 million in adoption assistance grants to unite more than 3,026 children with families across the U.S. The organization prioritizes grants for those adopting the most vulnerable children facing what is likely their last or only chance at adoption. This includes families who are working to unite or keep siblings together and those adopting children with critical medical conditions, kids aging out of orphanages or children at risk of falling into the U.S. foster care system.
For more information on Gift of Adoption, visit www.giftofadoption.org.
About Gift of Adoption Fund
Gift of Adoption Fund is a national 501(c)3 charity that fills the void that separates child from family by providing the final funds needed to complete the adoptions of vulnerable children. Visit https://www.giftofadoption.org to learn more on how to put adoption in reach for children in need of families.